henson: Realizing the Power of Cloud Computing
Real Semantics includes a module called henson, after the famous puppeteer, which is in charge of creating infrastructure in the cloud. Many older generation semantic frameworks, such as Information Workbench addressed the understanding of IT infrastructure as it exists. With henson, Real Semantics can not only understand IT infrastructure, but it can create IT infrastructure. Unlike other big data frameworks which require a large investment in cluster hardware, Real Semantics can run on any ordinary workstation or server and provision practically unlimited resources in the cloud. The following diagram explains the process by which the site is built: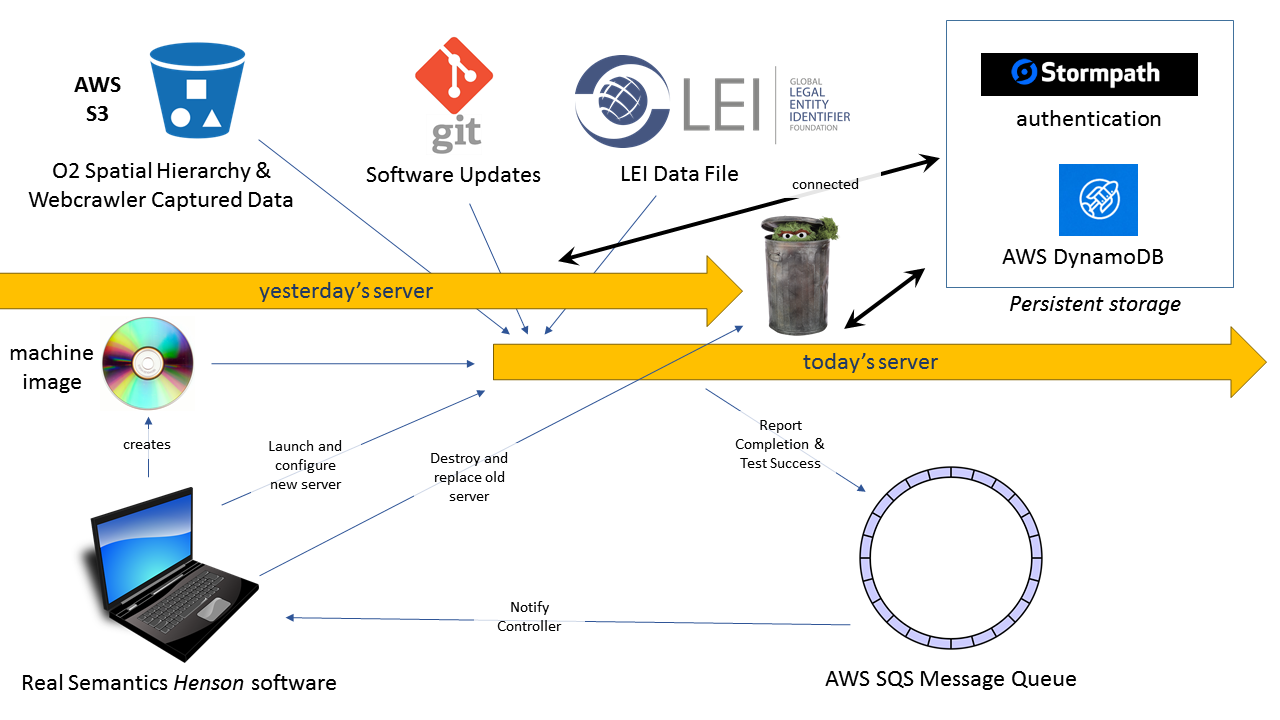 Practically, henson performs two functions with respect to the LEI site:
Henson creates a machine image that contains the operating system as well as software that the LEI site depends on. This includes installing AWS client software, the Java Runtime Environment, and a number of minor software packages. When possible this is done by using the apt-get packaging system, but the system is also capable of downloading, compiling and installing open source and other software. This process is typically done once a week.
Because a new LEI file is released every day, we build a new LEI server every day. Henson launches a new cloud server based on the previously created machine image, and compiles a bash script that runs when the server starts up. This bash script updates the Real Semantics software on the LEI server, and starts a mogrifier job that combines data from a number of sources with a set of software components to create the new site. After the site passes automated integration tests, the new site takes the place of the original server and the old server is destroyed.
This approach has a number of advantages over conventional approaches:
All software from the operating system on up is refreshed on a regular basis. Software upgrades are not a source of stress, but a largely automated process supported by automated tests and the ability to run servers in parallel until problems are resolved
In this way we run the latest security patches. In case of a security breach we can create a completely fresh and clean server.
We can create as many development, test and staging servers to support development and business needs
Supporting our continuous integration goals, we can test the latest versions of the Real Semantics and LEI site as soon as they are developed. We push changes to the site, user visible or not, almost every day, avoiding risky "big bang" deployments
With cloud deployment, we've got many options for deployment of the site: for instance, we can make a machine image of the new server and put it behind an Elastic Load Balancer to support arbitrary heavy use. We can run the software on any machine from the t2.small to the r3.8xlarge with as many as 32 CPU core or operating costs lower than 10 cents per hour.
The LEI site fits comfortably on a single server, so we locate all services on a single server for the fastest possible speed for end users; just as easily we can build multiple servers and configure them in a cluster
The LEI site fits comfortably on a single server, so we locate all services on a single server for the fastest possible speed for end users; just as easily we can build multiple servers, distribute services over multiple servers, and deploy a cluster.
Although the main database for the LEI site is constructed daily, persistent information can be stored in secondary databases apart from the main server. For instance, we use Stormpath for authentication as a service, and Amazon's DynamoDB for information that outlasts an individual server. In either case, Henson configures the server with whatever it needs to connect to outside services.
Since AWS bills by the hour and it takes about 20 minutes to build a new server, users are completely isolated from the performance impact of building a new server for just a 5% premium in cost. Logging and performance information is sent to Amazon Cloudwatch to gather the results from all servers into a single place.
mogrifier: data-driven data transformation
Henson sets the stage on which the legalentityidentifier.info site is constructed by creating and configuring a server, but the rest of the construction work is done by the mogrifier, another component of Real Semantics.
A modern high-performance application typically contains more than one "database". For instance, although many relational databases and triple stores contain a full-text search engine, typically you get better relevance using a dedicated search engine such as Lucene. If you want autocompletion or typeahead search, you'd do best with a specialized index such as Cleo. Intelligent systems could contain a curated database of facts and rules or a machine learning model involving random forests or neural networks. No matter what, data-rich applications contain raw data, pre-computed results, and specialized indexes that power fast and accurate interactive queries.
The mogrifier starts with a map of the process that transforms raw data into the databases and indexes required to power a product. In the case of the legalentityidentifier.info site, this map looks like this: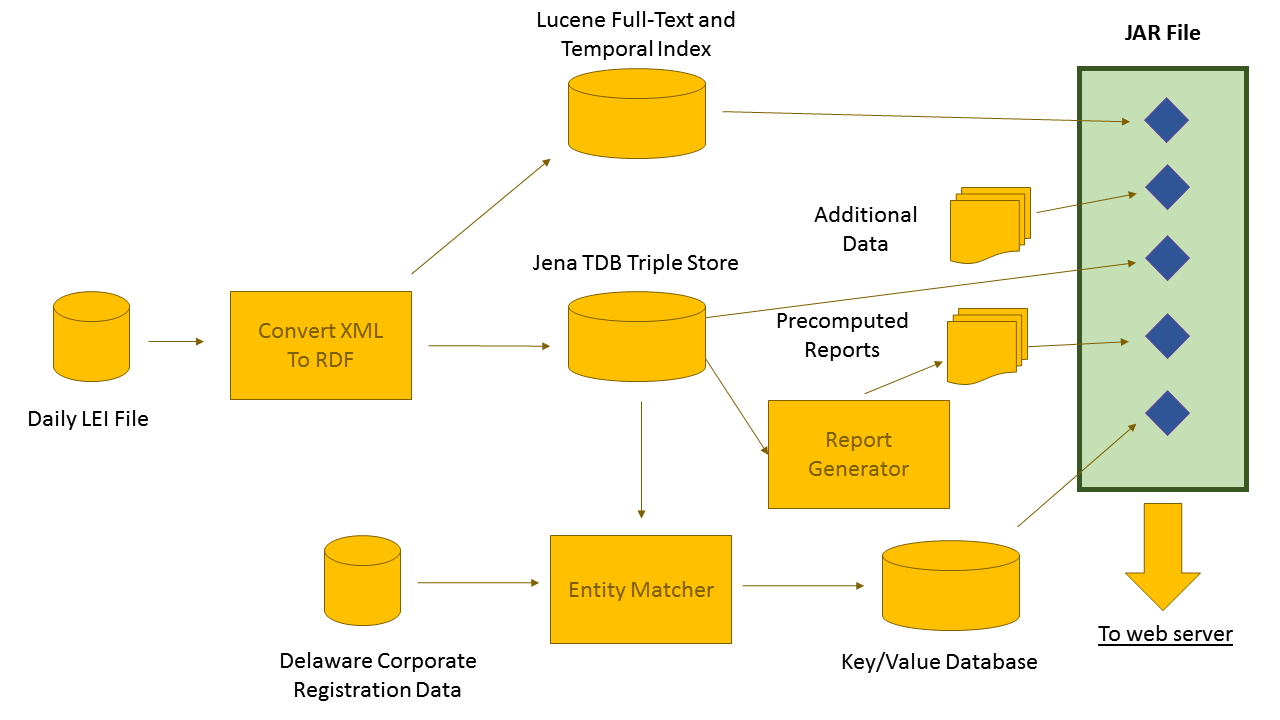 There are quite a few products on the market which can construct a dataflow from a GUI map in this way, such as LabVIEW, Alteryx, and KNIME. Real Semantics does not include a visual editor at this time, but it has a few features that other products do not:
Most dataflow tools pass individual scalar values (numbers) or relational rows on the lines the connect transforming boxes. The mogrifier passes RDF graphs along the lines -- this highly flexible data structure can carry relational rows as well as nested JSON and XML-style structures. Real Semantics is compatible with the NoSQL data models that are emerging today, and makes it possible to build a 360 degree view of a customer in a single place rather than hiding it behind a complex mess of manually defined join operations.
The mogrifier can work with both partial and complete graphs. For instance, when data passes from the XML-to-RDF converter to the TDB database and Lucene index, it is broken up into a set of individual graphs, one for each LEI record. Once the data has been completely loaded into the RDF graph, the report generator can run SPARQL queries against the complete dataset.
The mogrifier supports not only the relational operator based transformations from most boxes and lines tools, but contains more intelligent functional blocks that do functions such as entity matching and the operations performed by programmin language compilers. We're more interested in providing packaged intelligent functions than we are in requiring experts to create them.
A mogrifier job is itself an RDF graph which the mogrifier can operate on. One advantage of this is that a mogrifier job can add new tasks to itself from running. For instance, if we wanted to generate a report for every country in the world, the mogrifier can query the country list and add reports to the job.
The mogrifier embeds small artifacts (the things that it creates) into a JAR file and embeds connection information (filenames, ip addresses, usernames, etc.) into said JARs. In the case of the LEI application, these artifacts are discovered by the Spring framework and incorporated into the app.
Because the job description is a graph, it is possible to stick together two or more job descriptions to make a new one. For instance, the job for the legalentityidentifier.info site produces a very simple Lucene index that indexes only the fields used by the site. We have an additional partial job description, that when added to the main job description, writes a more complete index to Elasticsearch that we browse visually with Kibi. By adding another graph, we can patch the job description so that the job only looks at the first 100 LEI records, making it easy to do a quick test of the job.
He were will show a sample of the job description for the LEI site so you can get some idea of what it looks like in the RDF Turtle language. This sample loads data from the LEI file supplied by the GLEIF, converts it to RDF, sends it to the triple store, and indexes a few fields in Lucene:

@prefix : <http://rdf.ontology2.com/mogrifier1/>
@prefix g: <http://rdf.ontology2.com/graph/>
@prefix e: <http://rdf.ontology2.com/environment/>
@prefix es: <http://rdf.ontology2.com/elastic/>
@prefix lei: <http://rdf.legalentityidentifer.info/vocab/>

:Mogrifier :scanPackage "com.ontology2.definancialization.artifact" .
    
[] a :LEIReaderArtifact ;
    :name e:reader .

[] a :DatasetArtifact ;
    :name e:tdb ;
    :path "tdb" .

[] a :GraphArtifact ;
    :name e:lei ;
    :containedIn e:tdb ;
    :graphURI g:lei ;
    :input e:reader .

[] a :LuceneArtifact ;
    :name e:fulltext ;
    :input e:reader ;
    :path "lucene/lei" ;
    :field [
        a :FieldDefinition ;
        :property lei:RegisteredName ;
        es:index "analyzed";
        :fieldName "name"
    ],[
        a :FieldDefinition ;
        :property lei:RegisteredCountryCode ;
        :fieldName "country"
    ],[
        a :FieldDefinition ;
        :property lei:LegalEntityIdentifier ;
        :fieldName "lei"
    ],[
        a :FieldDefinition ;
        :property lei:LEIAssignmentDate ;
        :fieldName "assigned" ;
        :transform <java:com.ontology2.rdf.mogrifier.fn.ZuluDate>
    ] .

Rather than covering everything in detail, I'll point out a few major points:
At the top we find declaration of a few namespaces. The namespace mechanism for RDF is quite a bit like the namespace mechanism in XML, except that it is simpler as some rough edges have been sanded away. Namespaces allow us to combine terms that are meaningful in different contexts without the risk of a conflict. In this case we use the default : namespace for terms that are meaningful to the mogrifier, but we add terms from some other namespaces, such as:

lei: to refer to terms defined for the LEI project
es: to refer to terms that are used in ElasticSearch configuration files. These terms map 1-1 to
e: to provide a convenient place for the names of artifacts defined by the system
The mogrifier is tightly integrated with the Java programming language and runtime environment:
By specifying a Java package name with the :scanPackage predicate, the mogrifier searches for artifact definitions on the Java classpath and discovers metadata that is written on them with java annotations
the :transform predicate takes the name of a plain ordinary Java function. Unlike many databases and systems which require user defined functions (UDFs) to be written with special calling conventions, the mogrifier can often automatically import Java functions, converting the arguments and return value to RDF values. (In other cases it needs a little bit of metadata to help)
Note that the job definition doesn't care about the order that artifacts are defined. Instead, it analyzes the linkages between artifacts made through fields such as :input to determine the order of dependencies, much like the famous make utility. Often the system can take advantage of parallelism between steps: for instance, it can use different threads for parsing, search indexation, and writing to the TDB database. It operates efficiently, parsing the file once, and sending the result to multiple places. Once the TDB database is complete, the reports and record matching can then be run at the same time.
For maximum flexibility, the mogrifier is divided into several parts including:
Artifact Factory: each Artifact consists of multiple Java objects. For instance, the LuceneArtifact produces one object that indexes RDF graphs when the database is being built, and another object embeded in the web site to support search. An Artifact can also create different implementation objects based on context, such as one designed for local execution and another designed for a scalable cluster. The artifact factory manages the creation and configuration of all the objects needed in the execution.
Control Plane: once a job is compiled, an RDF graph and set of Jena Rules is built to control execution. The job is defined into a number of flows, and when the prerequisites for a flow are met, a rule fires to trigger execution of the flow. When the flow is complete, facts are inserted into the control graph which trigger more flows until execution is done. The control plane manages the initialization and teardown of all the artifacts so that everything is left in the correct state.
Data Plane:The control plane does its work by sending commands to the data plane, which is interchangable. The default implementation of the data plane is based on the Reactor framework from Pivotal which is incredibly efficient for jobs that run on a single workstation or server and also supports flows that work on a streaming basis, as well as batch. The organization of the data plane is quite similar to Spark, Flume and other big data frameworks so there is a clear path to scaling for cluster execution.